Reserve parking today by calling 866-235-5247. (Advanced reservations required.)
General Info: Convenient overnight parking is available at the Four Points by Sheraton shuttle stop for just $5 per day. Advance parking reservations are required as there are no reservation agents onsite to process parking requests. (Scroll down for parking terms & conditions)
Directions to Hotel: From I-5 take Exit 253. The hotel is located just east of I-5 on the right-hand side between the freeway and Fred Meyer.
Parking Info: Please park in one of the first 4 parking rows nearest to Lakeway Drive. Once parked, leave the parking pass on the dashboard, and proceed to the shuttle boarding area under the main canopy of the hotel. Passengers are welcomed to wait in the hotel lobby, where there is a full service coffee shop.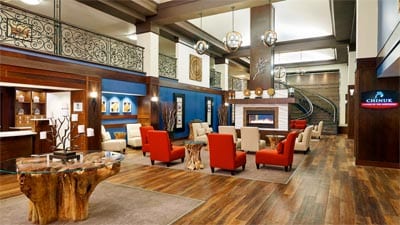 PARKING CANCELATION FEE

If you chose to cancel after a reservation has been confirmed, there is an $8 cancellation fee. Cancelation of parking must be made prior to departure date to be eligible for a refund minus the $8 cancelation fee.
---
BELLINGHAM PARKING TERMS & CONDITIONS:
By purchasing a parking pass for short-term or long-term parking at Four Points by Sheraton (714 Lakeway Drive), you acknowledge and agree to the following:
Bellair Charters / Airporter Shuttle is not responsible for damage or theft caused by others or the weather to your vehicle.
As the owner of the vehicle, you have adequate insurance coverage should you damage other vehicles of Four Points by Sheraton property where the vehicle is parked.
Please place the parking pass on your dash after parking. Failure to do so, may result in your vehicle being towed at your own expense.
If a vehicle can not be started or moved, it is your responsibility to arrange repair and/or move the vehicle.
If plans change and the original return date is extended, you will call 866-235-5247 to provide the new return date and pay additional parking charges.
If you return earlier than originally planned, unused parking days will not be refunded.
All personal items will be hidden from view. If incidents occur, it is your responsibility and local authorities to investigate.
---